Epic Fail Pics Archive
Dec 19
Posted in Epic Fail Pics | 7 Comments
Tags: ad, cat, Fail, funny, gay, girl, lol, makeup advertising fail, pink, poster fail, really creepy guy, shop fail, WTF
You are my girl… WTF! My cat? Is this meant to make sense?
Dec 18
Posted in Epic Fail Pics | No Comments
Tags: ad, bad marketing, big, ear candle, Fail, funny, lol, marketing, pictures, weird, WTF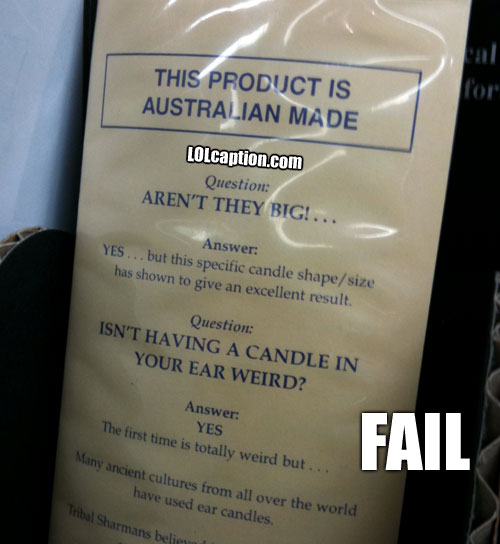 Isn't our product huge and likely to make you look like a fucking tool???!!….
YES!
Is it going to feel like I have a waxy pole stuck in my ear? YES!@!11
Dec 8
Posted in Epic Fail Pics | No Comments | Source: FB
Tags: epic, excessive, excessive warning labels, Fail, failblog, funny, no jumping or swimming, pics, sign, toilet, warning sign, when warning signs go too far
Nov 16
Posted in Epic Fail Pics | No Comments | Source: FB
Tags: customer service epic fail, epic, Epic Fail Pics, Fail, failblog, failure, funny, liveperson.net, Microsoft, MS customer support, msn, pics, tech support fail