Posts Tagged car
Aug 5
Posted in Epic Fail Pics | 1 Comment
Tags: ad, car, carefully, cemeteries, drive, Fail, failure, funny, funny sign, hospital, lol, no, pictures, sign, two
Jul 16
Posted in Epic Fail Pics | No Comments
Tags: ad, bricks, car, cops, Fail, failure, funny, lol, pics, pictures, police, wheels
Apr 16
Posted in Epic Fail Pics | No Comments
Tags: ad, car, engrish, Fail, failure, funny, lol, menu, pics, pictures, PVR, translation
Jan 19
Posted in Funny Short Videos | No Comments
Tags: ad, car, cat, coach, funny, funny golf video, golf, golf coach, golf pro funny video, pga, pro, short, tiger woods, training, video, videos, youtube
Dec 23
Posted in Epic Fail Pics | No Comments
Tags: ad, car, directions, epic, Epic Fail Pics, Fail, fail sign, funny, funny pictures, funny sign, lol, photo, pics, sign, streetsign
Could you sue the council if you followed the direction and wrote off your car?
Dec 18
Posted in Epic Fail Pics | No Comments
Tags: ad, car, crash, epic, Epic Fail Pics, Fail, failure, funny, funny pictures, lol, parking, photo, photos, pics, pole, tree, wire, WTF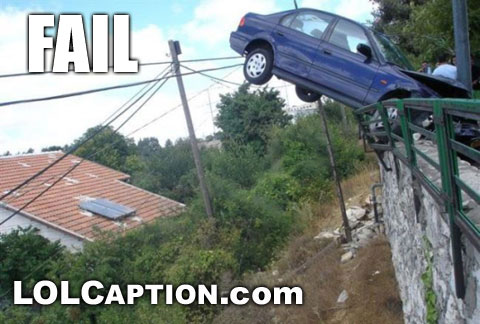 WTF? how the hell did the car end up there. They must have wanted more power.
Dec 14
Posted in Epic Fail Pics | 1 Comment
Tags: ad, car, crazy, crazyface, Epic Fail Pics, Fail, funny, funny face, funny pictures, lol, pics, scared, university, waterbomb