Posts Tagged crash
ouch.
Mar 28
Posted in Epic Fail Pics | No Comments
Tags: ad, car, crash, epic, Epic Fail Pics, Fail, failure, funny, funny pictures, lol, parking, photo, photos, pics, pole, tree, wire, WTF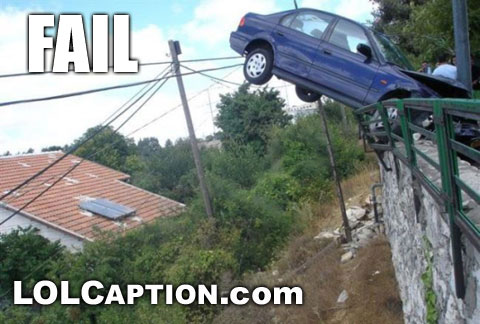 WTF? how the hell did the car end up there. They must have wanted more power.
"He never stalled, he performed a maneuver called a lomcevak, upon recovering it appears he misjudged his altitude and caught the water with his gear. Pilot error. Too bad, from the lomcevak maneuver it appeared he was one hell of a stunt pilot." -CCWSig
Jan 6
Posted in Epic Fail Pics | No Comments | Source: FB
Tags: cars, crash, epic, epic fail, Epic Fail Pics, epic parking fail, Fail, failblog, failure, funny, lol, pics, shops, taxi, was a woman driving you choose, WTF
Sep 1
Posted in Funny Short Videos | 3 Comments
Tags: ad, cat, collapse, crash, epic fail, Fail, failure, forklift, nub, warehouse disaster, youtube
Jan 21
Posted in Epic Fail Pics | No Comments
Tags: ad, bus, car, crash, Fail, failure, funny, lol, pics, truck, van, WTF
Jan 19
Posted in Epic Fail Pics | No Comments
Tags: ad, airport, crash, damage, drain, epic, epic fail, Fail, failure, fence, flying fail, funny, jet, lol, pics, pilot, plane, planes