Posts Tagged failure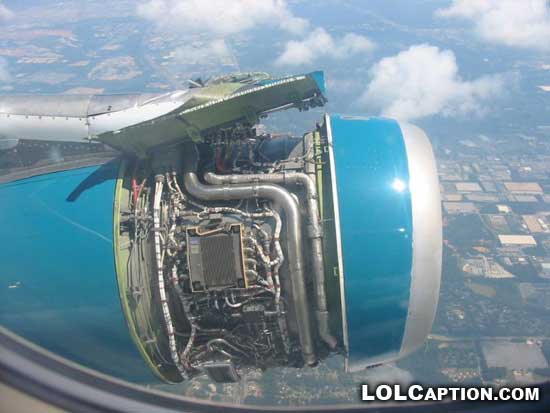 Nov 16
Posted in Epic Fail Pics | No Comments | Source: FB
Tags: customer service epic fail, epic, Epic Fail Pics, Fail, failblog, failure, funny, liveperson.net, Microsoft, MS customer support, msn, pics, tech support fail
Nov 5
Posted in Epic Fail Pics | No Comments | Source: FB
Tags: epic, epic fail, Fail, failblog, failure, funny, people doing dumb shit, pics, self tan epic fail, self tan fail, worst self tanning in the history of the world, WTF
Oct 31
Posted in Epic Fail Pics | 1 Comment | Source: FB
Tags: epic, Epic Fail Pics, Fail, failblog, failure, funny, pics, sail, sailing, sink, sinking, surfcat
Oct 3
Posted in Epic Fail Pics | No Comments
Tags: ad, epic, exam fail, Fail, failure, funny, funny exam, how to fail an exam, lol, multiple choice, pics
Sep 9
Posted in Epic Fail Pics | No Comments | Source: FB
Tags: bunny, drawing, epic, Epic Fail Pics, Fail, failblog, failure, funny, funny shit, kids colouring book, pics, WIN
Aug 28
Posted in Epic Fail Pics | 2 Comments | Source: FB
Tags: epic, Fail, failblog, failure, funny, funny website fail, google, google fail, google search fail, pics, search suggestion fail, shes a genius, shes a penis
Jul 14
Posted in Epic Fail Pics | No Comments
Tags: ad, autobots, car, car tryhard, car with transformers badge, decepticons, Fail, failure, funny, funny car pics, lol, pics, proton, transformers fail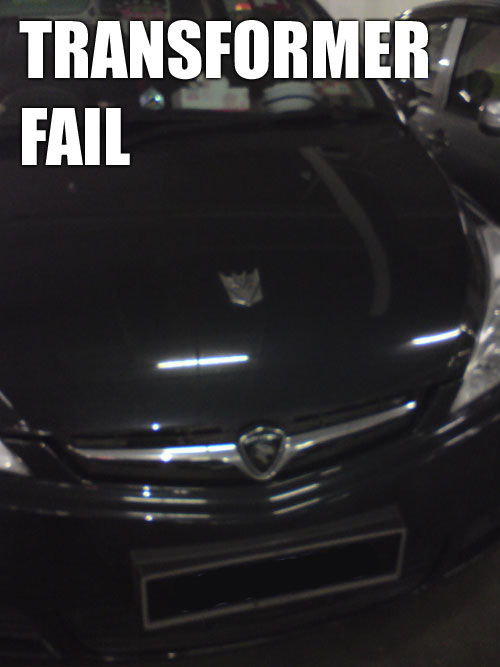 It's a Proton all it's going to transform into is a steaming pile of shit. Oh wait… it must have transformed already.
Jul 7
Posted in Epic Fail Pics | 1 Comment
Tags: ad, clothing shop, epic, epic name failure, Fail, failure, funny, lol, mall, pics, shop name fail, singapore, store, tampines, wanko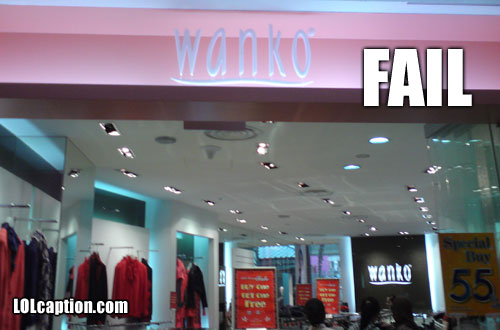 Surely they could have come up with a better name. English is the national language in Singapore after all.