Posts Tagged sign
Feb 22
Posted in Epic Fail Pics | No Comments
Tags: ad, epic fail, Epic Fail Pics, Fail, failure, funny, funny failure pics, funny sign, lol, pics, pictures, sign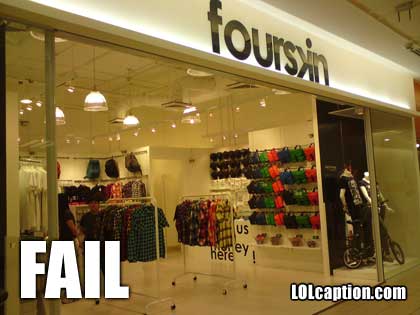 Great name for a store. They had a shirt describing a Formula One 4-way… great!
Jan 14
Posted in Epic Fail Pics | No Comments
Tags: ad, epic, Fail, fail pics, failure, funny, funny pics, gay, lol, pics, pictures, religion, sex, sign
Dec 27
Posted in Epic Fail Pics | 1 Comment
Tags: ad, design, disney, epic, Epic Fail Pics, Fail, funny, funny pictures, kids, lol, pictures, sign
Caution this sign has sharp edges. Do not touch the edges of this sign. Also the bridge is out ahead but DON'T TOUCH THE SIGN!
Oct 6
Posted in Epic Fail Pics, Random Funny Stuff | No Comments
Tags: ad, car, Epic Fail Pics, f1, Fail, funny, funny picture, lol, parking, sign, williams