Antimotivational posters have already become a trend. They can be spotted all over the internet, across websites, popular blogs, forums and they have also transcended to the conventional workplaces and public places as well. Funny anti motivational posters are among the coolest and craziest stuffs that anyone can create and share, provided one has an uncanny sense of humor.
Antimotivational posters which are also known as demotivational posters are a funny take, similar to a spoof, on all the popular motivational quotes used in posters and pictures. You may have seen motivational posters in offices, public places, libraries, schools, colleges, religious places and people also have some in their homes. Tweaking the motivational quotes to imply exactly the opposite of what it intended to can make for some amazingly funny anti motivational posters.
Motivational posters might fail to motivate you but you will never experience demotivational posters fail to make you laugh. You can use antimotivational posters as desktop wallpapers, screensavers, profile pictures on social networks, create a presentation or a montage to share with friends and even with your colleagues and you can also use them to wish someone you know closely, just for sheer fun.
Like motivational posters, antimotivational posters also have a take on anything and everything. There are funny anti motivational posters on love, survival, philosophy, tradition, adventure, government, emotions, relationships and anything you can think of. Right from pain to teamwork, economics to hope, there are innumerable antimotivational posters on every ideal message that has to be conveyed.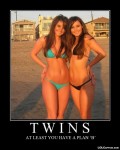 Creating antimotivational posters or demotivational posters doesn't take much hard work. All you need is a sense of humor and an ability to see the lighter side of graver realities. There are thousands of great quotes from hundreds of great men and women who have graced the planet and some of whom are still gracing the world. Take the quote, tweak it to mean exactly what it is not supposed to imply and put them up in a manner that suits your fancy. You can change the pictures of such posters or keep them unchanged. Altering the text or amending the image along with changing the texts can make some rib tickling demotivational posters.
At LOL Caption, we have dedicated all our strengths and brainpower to make some of the best antimotivational posters that you would have ever come across. Do not take the strength and brainpower bravado seriously as we have only made a little effort to simply tweak the apparently grand philosophies and worthless quotes!